A new year is coming again! A time for reminiscing, reflecting, and looking forward to a fresh new start, and of course with that comes... new year's resolutions!
How many times have you made new year's resolutions to just have broken them weeks later or even on the same day? Statistics show that most new year's resolutions are broken after 6 weeks actually. And do you know what the top 5 new year's resolutions usually are?

5) Stay fit and healthy

4) Enjoy life to the fullest
Well if you wanted some tips on how to keep your resolutions - Greek Style, then I am here to help! Keep reading for more...
* So to

lose weight

... first of all, if you are living with your mother - move out. That's right, and not down the road so she can still bring you food every day, I mean out... way out! This way you can then refuse the delicious fried, juicy meat and yummy sweets that are always on tap in a Greek house, and try and cook your own things and actually be able to stop eating when you are full - this is possible despite what yiayia thinks, honest! Also, keep moving! You don't need to cruise at 10mph in your Mercedes just to visit the shops, walk re.

* Wanna

get organised

? Contradictorary to the previous resolution, get your mama/yiayia to help you. Ever notice how chores are just always miraculously 'done' in a Greek house? This is not the gift of a magic Greek woman, even though that's what they like you to believe... it's down to sheer organisation. This has been honed after years of torture from the mother in law. Break them down and get them to feed you their pearls of wisdom! I suggest making the most of the mornings - when the world is asleep you can get your stuff done and then have the rest of the day to do your thang!
* Need

motivation to work out

? Go to a gym where other fit Greeks are notorious for attending. You will look forward to your trips to check out the local talent and when you see that the girl next to you has better guns than you do, you will be inclined to pump that iron even harder.
* Need to

save that cash

? A tough one if you're Greek. You can't be a tsinkounis (stingy git) or you'll never live that title down... the only option is to work even harder and earn more money - whilst not spending more than usual, though! Also, maybe think twice before forking out hundreds on that basket of flower heads just to throw them whilst at the bouzoukia... #JustSaying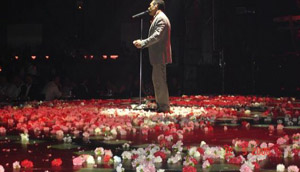 * Want ideas for

enjoying life to the fullest

? That one should be easy to keep if you are surrounded by like minded, fun Greeks! No one can party and enjoy life like a Greek!
What are some of your new year's resolutions? Any tips for keeping them? Happy 2013 my Typical Greeks and hope all your dreams come true!